Dental Implants With On-Site Crown Milling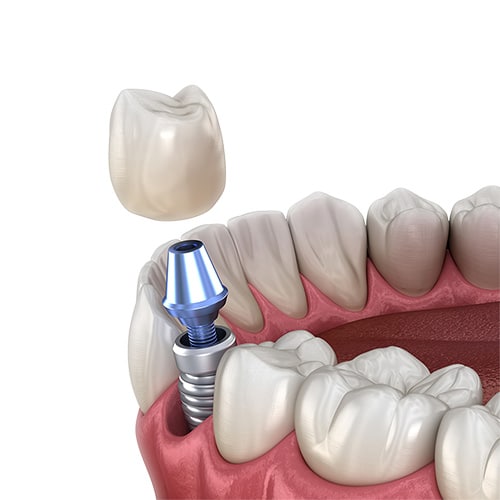 Dental implants are one of the best and healthiest options for replacing a lost tooth or rehabilitating an entire mouth. In most situations replacement of a single tooth using dental implants has become the standard of care. Depending on the individual situation everyone's treatment goals are different and often times multiple treatment options exist. After consultation, 3D imaging, and evaluation the team at St. James Dentistry can help assist and coordinate the level of care you deserve.
What Is A Dental Implant?
An implant is a titanium post that will replace the missing tooth and furthermore stabilize the jaw from further bone collapse.  Dental Implant(s) are placed creating a permanent foundation for single teeth, multiple teeth, or for stabilization of removable full and partial dentures.  Dental implants can have a dramatic effect on facial appearance by helping to preserve your facial structure and preventing bone deterioration.
Are Dental Implants Right For You?
There are several factors that will help determine if an implant is the right choice for your optimum dental health and Dr. Savage will spend the time going over what makes the most sense for your unique situation.  However, if you are looking for a permanent dental solution to a missing tooth an implant may be the ideal solution to years of beautiful smiles and healthy teeth.
Dental Implant Process
The idea of getting an implant may seem daunting; however with modern dental technology the process has become much more comparable to other routing dental procedures.  Thanks to our CEREC digital imaging and on-site milling the process is faster and much less intrusive than in the past.  Below are a few highlights of the process which you can likely expect during your implant procedure.
Initial exam to review your individual dental and medical history and treatment goals to see if you are a candidate for implant therapy.    

If you have an existing damaged tooth that will be replaced treatment options will be discussed to see if the bone and foundation first needs to heal after removal.  Temporary options during the healing phase will also be discussed. If you are replacing a missing tooth or teeth, we will be able to jump right into the implant process. 

Since more diagnostic information is needed than a standard dental x-ray our office can take a 3d dental CT scan. With this image and special software we can image your bone structure, tooth position, soft tissues, and nerve pathways in detail to plan your implant(s).  Learn More About CBCT (Cone Beam Computed Tomography)

At St. James Dentistry when planning treatment that involves one or more dental

implants a custom surgical guide is used.  It plays an important role in creating a 

predictable, functional and esthetic outcome to ensure your implant or implants last

for a long time

A Surgical guide is a custom device made to fit over your teeth and gums with indicators  to provide the surgical doctor with the  exact location, angle, and depth of where your implant or implants should go based on where the planned teeth should be.   This allows for a more efficient and predictable surgical procedure.   Learn More in our photo guide to the surgical implant process.
After your implant is in place it will need several moths depending on the patient and area of the mouth to allow for the implant(s) to integrate to your existing bone.  As discussed before options for temporary replacement during healing can now be performed.

Once your implant(s) have integrated we can now utilize digital impressions to create your new tooth worry about that here at Saint James Dentistry.

Our fully digital process and on-site milling mean we can create your new tooth while you wait!  This will save several weeks to months off the process and since we are managing the entire process we can make sure your color match is perfect!
Once your new tooth is placed on the implant, you're ready to show off that new simple and enjoy a lifetime of worry-free use.
Dr.Savage and team  will go over the steps in detail and make sure you are confident in your choice and understand how implants can contribute to the long term health of your smile.
Dental Implant Guides & Downloads
The more you know about your upcoming dental implant the better.  These three downloads will walk you though, step-by-step, of the process.
Replacing a tooth can be accomplished with a dental implant. A dental implant restores mouth to ideal function; stabilizing the surrounding bone, tissue and teeth by substituting the root structure of the missing tooth.
When planning treatment that involves one or more dental implants, your doctor may choose to create a surgical guide to aid in their planning and placement.
Cone Beam Computed Tomography, or CBCT, is a specialized imaging device that uses a rotating cone-shaped x-ray beam to create a 3D view of the inner anatomy of your head and face.
Getting Started with Your Dental Implant
Getting started is easy, just schedule your first consultation and we can answer all your questions, provide you an estimate, and walk you through the simple process.
Schedule Your Implant Consultation
Take A Tour Of Saint James Dentistry