Teeth Whitening with Opalescence Boost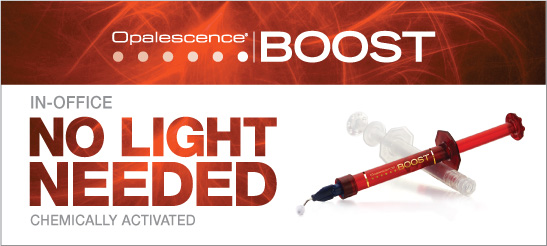 St. James Dentistry is excited to offer our patients professionally applied in office whitening treatments.  Opalescense® Boost ™ is a product of Ultradent, Inc and is a teeth whitening system that employs a 40% hydrogen peroxide-based power bleaching gel requiring no painful lights to quickly brighten your smile.
The appointment typically runs around an hour.   First, we assess if you are a good candidate for professional tooth whitening procedures.  We start off documenting your tooth's current shade using the easyshade advanced digital shade reader. Next sit back find a movie on TV or favorite music on Pandora and relax while we brighten your smile.  Individual results and number of treatment appointments can vary but one could experience results up to 5 shades lighter.  After your visit patients may experience slight sensitivity, which is normal, and typically ceases within 24hours.
In office whitening delivers quicker, more powerful and immediate results.  You can achieve similar results in just one visit, which normally may take up to 2 weeks to achieve the same results with take home bleach trays.  Keep in mind that whitening treatments will not lighten artificial teeth, crowns, veneers or fillings and some people need multiple treatments to achieve optimal results.  Also, teeth with multiple colorations, bands, splotches or spots due to tetracycline use or fluorosis do not whiten as well and may require additional procedures.
In office whitening is perfect for any special occasion or even if it is just to Boost™ ones self-confidence.  Remember, in office whitening treatments are considered safe, but are not without risks.  Please feel free to call our office with any questions, concerns or to schedule an appointment.  We can't wait for you to brighten our day, and we can't wait to brighten your smile.
Teeth Whitening with Opalescence Boost