Senior Dental Care: Everything You Need To Know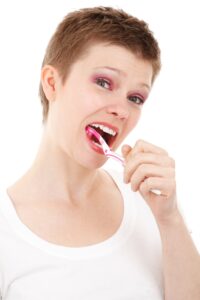 Maintaining healthy teeth is incredibly important for everyone, but especially for senior citizens. Adapting your dental care as you age is important to help keep your existing dental work in place and avoid disease and dental problems that arise from age. At Saint James Dentistry in Surfside Beach, we have created a special program for our senior patients to help keep their smile healthy and beautiful throughout the golden years. Some specific concerns for senior dental care include:
Aging dental work and appliances
Periodontal or gum disease
Tooth decay
Oral cancer
Discolored teeth
Tooth loss
Dry mouth
Denture-induced stomatitis
Proper brushing & daily care
Caring for young teeth is different than older teeth, aside from just a few years and miles. Seniors have to take special care to not only ensure they are taking proper preventative care by brushing and flossing daily, they also must be on the lookout for a variety of age-related dental concerns. Part of our senior dental care program, we work with patients to help identify issues early and guide them through treatment. One of the most common issues we see is related to daily care, specifically proper brushing and flossing when the patient has arthritis or limited movement. Proper daily care is our number one recommendation to avoid serious senior dental issues such as gum disease, tooth loss, discoloration, and even oral cancer.
Five Dental Issues Affecting Senior Citizens
Everyone needs to take great care of their teeth if they want a lifetime of healthy, worry-free, smiles. However these five things are most important for seniors to keep an eye out for and discuss with their dentist. While these five things can afflict the young and old, years of use (and potentially bad habits) can make those 65 and older more vulnerable.
#1: Aging Dental Work & Appliances
Root canals, fillings, and even implants age and overtime can begin to cause issues with the elderly.
#2: Periodontal or Gum Disease
According to the CDC, gum disease impacts two thirds of all seniors, 65 and older. In fact, periodontal disease is the most common dental issue we see on a day-to-day basis with our older patients. Symptoms start with sore, bleeding gums, followed by chewing problems, and eventually even to tooth loss. The good news is gum disease is entirely preventable with good senior dental care, check ups, and monitoring your smile. Our senior citizens are more prone to gum disease due to a variety of factors, including poor daily care, smoking or chewing tobacco, and others.
Periodontal disease often leads to tooth loss (covered below) and can be prevented through proper care, proper diet and bi-annual checkups and cleanings. Other causes of gum disease include ill-fitting bridges or dentures, disease such as diabetes or cancer, and dry mouth caused by various medications.
#3: Tooth Decay and Loss
Tooth Decay and loss can be caused by a multitude of age-related dental issues and is an incredibly common issue among our aging population. The good news is tooth decay is largely preventable with proactive care.
Tooth Decay is a multi step process that begins due to both a lack of proper dental care environmental issues. Environmentally, seniors are more likely to be on multiple medications, many of which cause dry mouth. While dry mouth may sound like a minor annoyance, the saliva that your mouth is supposed to produce helps protect the teeth and reduce harmful bacteria. This often weakens the teeth and then combined with poor dental care is a recipe for tooth decay.
Root decay is another concern that can lead to tooth loss. This occurs when the gums recede and expose the tooth root, which does not have the protective enamel that protects the visible portion of the tooth. Without the protective enamel, the root is exposed to the decay-causing acids that will quickly result the root being eaten away.
Proper ongoing dental care is paramount to avoid tooth decay and loss in seniors. As senior citizens experience tooth loss it affects not only their dental health, but their overall well-being. Studies have shown seniors with missing teeth have notably lacking nutrition because of the difficulty eating healthy fruits and vegetables. Keep brushing, keep visiting your dentist every six months, and keep your healthy smile well into your golden years.
#4: Oral Cancer
Those cigarettes or chewing tobacco of years gone by can still come back to haunt us as we age. Even those who kicked the habit decades ago are at a higher risk of oral cancer. Even seniors who never smoked are at a heightened risk due to environmental exposure, aging bodies, and often inadequate daily care.
#5: Proper Daily and Preventative Care
Daily care and bi-annual check ups are the most important aspect in keeping your senior smile healthy and beautiful. Unfortunately many seniors do not take the best care of their teeth.
Helping To Improve The Dental Health Of Our Seniors.
Our best patients are the ones we only see every six months and proper dental care is how you can keep that great smile forever. Like our bodies change, so does our dental care needs change as we age. If you're a senior citizen, or assisting someone in their golden years, these tips will help keep your teeth healthy and working for you for years to come!
Always brush twice a day with a soft bristle brush. We have found that an electric toothbrush, such as the Phillips Sonicare Electric Toothbrush, does a much better job than a traditional brush. Aside from reminding you to brush for a full two minutes, it makes brushing with mobility issues much easier.
Flossing is so important and is the one thing nearly all of our patients don't do enough. However for our seniors, flossing is even more important to keeping healthy gums and roots.
Keep your dentures clean. You should be removing your dental appliances nightly to give your mouth time to breathe and we as time for your dentures or appliances to soak/clean.
Eating well is key to a great smile. Whether you're young or old, a balanced diet with fresh fruit and vegetables is so important to great dental health.
Stop smoking or chewing tobacco, prolonged usage will cause tooth decay, gum disease, oral cancer… and that's just in your mouth.
Keep up with your bi-annual (or as recommended) dental appointments. These are often covered by insurance and will help to catch any issues early.
Tell your dentist about your medications. Many medicines can cause oral issues and by knowing your prescriptions your dentist can help avoid any dental side effects.
Contact Us To Learn More About Senior Dental Care
Additional Information for Senior Dental Care
Learn more about how you can maintain a healthy smile through your golden years with these additional services and articles.